Magic Spots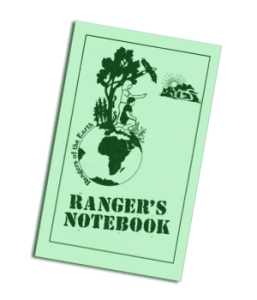 "Magic Spot" is a special place to be alone and bask in the richness of nature. Each participant selects a particular spot and spends some time there alone with the natural world. The leader guides his or her group to a separate area, and before the participants select their individual spots, the special intent of Magic Spots is explained. First, the participants are cautioned to be very careful about selecting one small spot from so many possibilities. "Your spot should be out of sight and hearing from other spots, if possible," suggests the leader. "It should be a place where you can sit comfortably, with a good tree or stump or rock to lean against."
The leader recommends that they look in their participant booklet for some skills to practice while spending time at their Magic Spots. "You don't have to do just those things," she adds. "Those will help you become familiar with your spot, but basically, your Magic Spot time is a time to sit quietly by yourself and just tune in to the flow of life. That's the main goal here."   At the end of Magic Spot time, the leader blows on a flute, conch shell, or bird call to signal the participants that she will soon come down the trail to have them join her. They have spent a short time (20-30 minutes) in a quiet place, where each is alone with the flow of life engulfing them and his or her personal thoughts about it. Magic Spots provide a good environment for the youngsters to make the connection between problems of the entire planet and this one special place they have begun to value. The more they get to know this site, the more they will appreciate one small piece of the natural communities of our preeminent home: Earth.

A youngster sits alone, leaning comfortably against a tree. She is by herself but  knows that her friends and leaders are not far away. There is no sound of human voices, no noise but the murmuring of the branches in the wind, some birds singing, a stream meandering on its way, a single leaf scuttling along the ground. She comes to this special spot she has chosen in the forest to pause and reflect, to ponder and dream. She looks up to see the pattern  of the branches of "her" tree against the sky, leans back to feel its bark against her skin, reaches out to touch the soil at its roots. This is her "Magic Spot"
A core component of most earth education programs, a Magic Spot is a special place to be alone, in direct contact with the elements of life. On the first day of most of our programs, you will find a leader pulling participants together to introduce Magic Spots. The participants then head off to spend a few minutes finding and spending time getting to know their spots. A longer time is spent each day as they become more comfortable and get to know this one small place in a natural area. It is a time to be still and take in the life all around them. Participants consistently find Magic Spots to be a highlight of their experiences in earth education programs.


Magic Spots are one of the institute's "solitude-enhancing" activities, where participants can be alone in the natural world in touch with both the flow of life and themselves. Other activities for small groups include the Viewing Parties and Country Rambles highlighted on this tree.
General Notes
Magic Spots are not just for youngsters.
Pull the group together before departing and have them all hold their hands up like they are grasping the top edge of a curtain, then everyone can lower the "veil of silence" with you. (Be sure to raise the veil again at the end.)
Explain that it is usually important to sit up during these experiences so they will be in more of an active mode rather than a passive one.
Provide more structure for younger participants (e.g., dropping them off and picking them up one by one, giving them a task to focus upon the first couple of times, preparing a special booklet in which they can record their observations).
Emphasize that these experiences are not primarily for reading or writing or meditating, but for getting in touch with the flow of life in natural communities. Some time should be spent just taking everything in, just absorbing the moment. Suggest that they tune in to the subtleties (shapes and shades and songs), but caution them not to let the little voice in the back of their heads dominate the experience.
The "magic" we are referencing is not supernatural but intensely natural. Think "the magic of a spring day" or a "summer rain." Sometimes people who are uncomfortable with the use of the word "magic," call them "Quiet Spots," but we feel that places the emphasis on the human rather than nature's presence.
See the "Step-by-Step" instructions for Magic Spots in Rangers of the Earth for additional suggestions.

Copyright © 2016 The Institute for Earth Education
www.ieetree.org
Props
individual "sit-upons" (squares of old carpet, for example)
special booklets to write or draw in, perhaps including some prepared headings, such as: "Today, at my Magic Spot…."
[simple_tooltip bubblewidth='200′ bubblebgcolor='#FFF' bubbleposition='right' bubblecolor='#000′ content='Please feel free to copy this activity for your personal use, but not to publish or post it. '] [/simple_tooltip]