Design Challenges

nfortunately, in the field of natural and cultural interpretation there are few critical analyses of what's being done. Everything is accepted at face value. Neither our professional organizations, nor the media, provide any constructive feedback. Although there are well-established critics for other leisure pursuits (food, music, film, art, etc.), there are few analytical eyes in the field of interpretation. Each of our Design Challenges casts a critical eye on a particular problem of the interpretation at one of the world's jewels, and suggests a remedy. Undoubtedly, there are many good things happening in these places, and the staff of each is devoted to the site's mission.

But sometimes people get so wrapped up in a certain way of doing something that they cannot see its weaknesses, or any alternatives. In general, a design challenge goes to the heart of the concerns for a site or service, but one that is illustrative of what occurs in many similar situations. We included 14 of these challenges in
Interpretive Design… and the Dance of Experience
, covering a range of interpretive sites in a number of countries:
Hanover Zoo

Missouri Botanical Garden

Colonial Williamsburg

Everglades National Park

London Walks

The Island of Pantelleria

Japanese Gardens

Mount Vernon

Shaker Lakes Nature Center

Tate Modern

Uluru-Kata Tjuta National Park

Brookfield Zoo

Arizona-Sonora Desert Museum

Field Museum of Natural History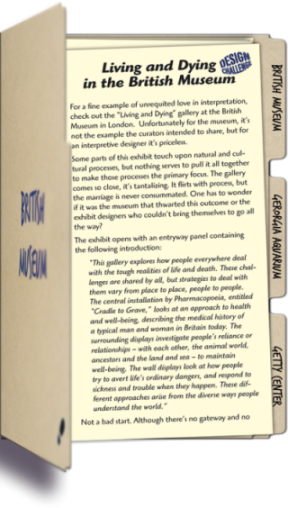 The idea of the "challenges" grew out of Steve Van Matre's masters degree program at George Williams College in the 80's. Steve would take students to interpretive sites in the midwest to analyze their interpretive programs and then challenge the students to come up with alternatives for any problems they encountered. In the end, the intent was not to be critical, but constructive. If there was an interpretive problem, the challenge was in how to fix it. Of course, in many cases that meant suggesting a way to fix something that was created poorly in the initial design process, probably because there was no interpretive designer involved. Today, there is a growing disconnect between those who create the facilities and displays at the world's jewels and those who assist the visitors in getting the most out of their experience with them. This gap works to the detriment of everyone. The staff inherits something it had little to do with creating, and the designers end up with a staff making changes based on limited understanding. We will post additional challenges like these as time permits.